Signature Char Siew (100G)
$8.00
300G
$24.00
Thanks to a combination of modern cooking and traditional roasting, Char's signature dish is melt-in-your-mouth tender, with a sublime sauce that is the ultimate blend of salty, sweet and deliciously sticky.
Crispy Roast pork belly (100G)
$8.00
300G
$24.00
The crackling that comes from the roast pork belly is the main character of a good roast. The meat has been marinated in a blend of Chinese and Western herbs and roasted on high heat.
Jasmine Roast Duck (whole)
$52
1/2 duck
$27
1/4 Duck
$14
Char's bolder, better duck, made with traditional Cantonese roasting techniques but taken to a completely new level with the infusion of jasmine tea. Think ultra tender meat hit with a lightly floral flavour and topped off with amazingly crispy skin!
Soya sauce kampong chicken (whole)
$34
1/2 Chicken
$18
1/4 Chicken
$10
We use flavourful kampong chicken for this Cantonese specialty dish, marinate it in a blend of soya sauce and Chinese spices, then poach it gently for hours till tasty and tender.
Double Roast (400g)
$33
Pick any two of our roasts (Char Siew, Roast Pork or Soya Chicken)
Triple Roast (450g)
$36
Char Siew, Roast Pork and Soya Chicken only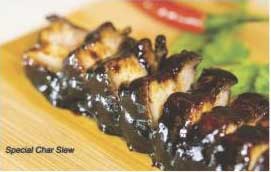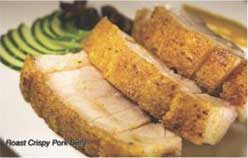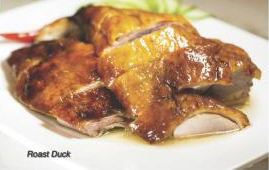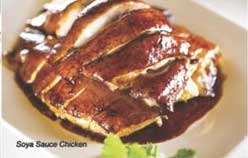 main dish

Chicken & Beef
SPiCy SZeCHUAn CHiCKen
$13
A new improved version! Deep fried chicken chunks stir-fried with peanuts, peppercorns, garlic, spring onions and filled with Szechuan dried red chillies. Spicy! Great with ales!
bUTTer CHiCKen
$14
A special recipe of fried tender chicken thighs that are coated with a delicious concoction of evaporated milk, curry leaves and chili.
bLACK gArLiC STeWed CHiCKen in CASSeroLe
$15.80
Roasted sweet black garlic is stewed with chicken thighs in a deliciously intense sauce.
PrAWn PASTe fried CHiCKen WingS (8 PieCeS)
$12
Deep fried chicken wings marinated with prawn paste and special herbs that are bound to stimulate your senses.
KUng Po CHiCKen
$12
A classic Chinese dish of chicken stir-fried with peanuts, vegetables and chilli peppers mixed in a tangy sweet sauce.
beef WiTH green PePPer in bLACK beAn SAUCe / bLACK PePPer SAUCe / ginger And SPring onion
$14
Jazzing up the beef with any of these sauces makes this a delicious meal.
AngeLiCA rooT beef CUbeS WiTH CriSPy gArLiC
$16.8
Tender beef cubes marinated with angelica and special soy sauce are stir-fried, then topped with golden slices of garlic.
Pork
SALTed egg PorK
$14
Tender pieces of boneless rib meat deep fried for a crispy outside but a tender inside and stir fried in a creamy sauce of salted egg, chilli and curry leaves.
freSH WiLd yAm WiTH PorK in SAmbAL SAUCe
$13.80
Combination of pork and wild yam in our home-made sambal sauce.
STeAmed PorK WiTH SALTed fiSH or SALTed egg
$11
We love this homely dish of steamed pork pate seasoned with soy sauce, sugar and sesame oil with a choice of either salted fish OR salted egg.
WHiTe PePPer PorK
$12
Tender and delicious pork stir-fried in the fragrance and spice of white pepper, capsicums, celery and red chillis.
SWeeT And SoUr PorK
$13.80
Char's take on one of the most popular Chinese restaurant dish – Chunks of pork sauteed with cucumbers and lychees in a sweet and sour sauce.
minCed PorK WiTH AUbergine in CASSeroLe
$14
This traditional bubbling aubergine bake is gorgeous with its sticky flavours. This healthy veg combined with pork mince, mushrooms, spring onions and salted fish is great with rice.
roAST PorK beLLy WiTH beAnCUrd in CASSeroLe
$14
Tender roast pork are stewed with beancurd, mushrooms and spring onions in an intensely delightful home-made sauce.
Fish
Marble Goby (Soon Hock)(600g)
$48
Red Grouper(600g)
$60
See Bass (600g)
$42
Choose to have your fish done any of the following ways:
STeAmed: Hong Kong STyLe/ bLACK beAn SAUCe / CHiLLi PePPer/ oLiVeS

The fish is gently steamed in your choice of one of the above styles.

Ginger and Spring Onion

The fish is deep fried and later sauteed with oyster sauce, ginger and spring onion.

deeP fried WiTH SoyA SAUCe And gArLiC

Deep-fried fish of your choice is topped with a scrumptious sauce of premium soya sauce and golden garlic
Prawn
Tiger PrAWnS
$24 per 300g
Please choose the following cooking methods for your Tiger Prawns:
gArLiC And SALT Tiger PrAWnS

Using the simple salt and garlic to bring out the natural sweetness of the crustaceans.

Tiger PrAWnS WiTH ALmond

The prawns are deep-fried and topped with crunchy almonds and golden crispy garlic.
bUTTer PrAWnS
$22
The prawns are deep-fried and then sauteed in a yummy dressing of evaporated milk, fried curry leaves and chilli padi.
PASSionfrUiT PrAWn bALL
$22
Deep-fried prawns are marinated in a special sauce before deep-frying and coated in a tangy passionfruit dressing and topped with fruits.
Appetisers
CoLd SPiCed CUCUmber STriPS
$5
A delightful cold dish of crunchy cucumbers mixed with chilli oil, sesame dressing and vinegar.
SALT And PePPer fiSH SKin
$6
Crispy fish skin deep-fried with salt and pepper. A great side to go with ales!
CoLd CHiCKen
$10
A cold appetiser of steamed boneless chicken with peanuts, garlic and spring onions that is topped with a tantalising sauce of vinegar, Sze Chuan peppers and chilli oil.
PUMPKIN AND EGGPLANT STRIPS
$9
Strips of pumpkin and eggplant are deep-fried, topped with pork floss and acompanied with mayonnaise
goLden Trio of mUSHroomS
$11
Perfect combo of shitake, golden and oyster mushroom deep fried in a crispy Tempura batter and served with a special sesame sauce.
side dish

Soups
SOUP OF THE DAY
$4.50
Please check with server for Soup of the Day
HOT AND SOUR SOUP
$6
A soup that's jam-packed with wood ear fungus, tofu, pickled vegetables, chilli, shrimp and pork. *Vegetarian option is available
SignATUre doUbLe boiLed CHiCKen SoUP
$10
Our signature double boiled chicken soup with scallops and fungi has been cooked on low-heat for many hours to extract the maximum flavours is a great start to your meal. Limited portions daily.
doUbLe boiLed meLon SoUP
$8
Using the subtle sweetness of the honeydew melon and combining it with fresh chicken and fig, this soup is light and refreshing.
fiSH mAW SoUP
$12
A luxurious soup made with decadent fish maw, Japanese dried scallops and seafood broth.
Beancurd and Vegetables
CHAr'S Home-mAde CHArCoAL beAnCUrd WiTH SPinACH And WiLd fUngi
$14.80
Home-made silky charcoal beancurd that's steamed and then deep-fried, laid on a bed of poached spinach and topped with wild fungi and a delicious sauce.
beancurd with dry scallops
$14
Deep-fried tofu in a decadent sauce of mushrooms and dried scallops
THREE TREASURES
$14
Chinese spinach cooked in a delicious broth with salted egg, century egg and egg
SPiCy 4 SeASonS beAnS
$12
French beans stir-fried with minced pork and spicy peppercorn
doU miAo WiTH dry SCALLoPS
$14.80
Stir-fried baby dou miao in a decadent sauce of mushrooms and dried scallops
KAi LAn, KAng Kong, SPinACH, doU miAo
$12
Pick your favourite accompaniment to your veg Choice of: Garlic / Sambal / Preserved bean curd
Rice
CHAr'S SPeCiAL Xo SAmbAL fried riCe
$13.80
Char's special fried rice with scallops, roast pork in our in-house XO Sambal sauce.
CHiCKen & SALTed fiSH fried riCe
$11
Starting with egg fried rice, we add in sumptuous pieces of chicken and aromatic salted fish.
CHineSe SAUSAge WiTH dried SHrimPS fried riCe
$11
Fried rice with aromatic Chinese sausage combined with savory dried shrimps, french beans and spring onions.
yong CHoW fried riCe
$12
All time favourite fried rice with prawns, pork, mushrooms and vegetables.
egg fried riCe
$7
CA Cantonese classic, combining two humble ingredients, egg and rice into a full meal.
Noodles
Crispy egg noodLeS with kurobuta PorK
$16.80
Addictively strong and flavourful with tons of wok-hei, this plate of stir-fried noodles with onions and bean sprouts will make you come back for more.
CriSPy egg noodLeS WiTH SeAfood
$16
Crispy egg noodles are topped with fresh seafood in a yummy sauce.
beef Hor fUn
$13
Addictively strong and flavourful with tons of wok-hei, this plate of stir-fried noodles with onions and bean sprouts will make you come back for more.
PrAWn Hor fUn
$14
A traditional wok-fried rice noodle dish with fresh prawns are topped with a silky smooth egg sauce.
Hong Kong STyLe STir-fried miAn XiAn
$12.80
A delightful home-style stir-fried mian xian with pork, bean sprouts and capsicums.
drinks

Desserts
Drinks
hot
Chinese Tea (Refillable) $1
Long Black $4
Flat White $4.5
English Tea $4.5
Mocha$5
Home-made Lemon Tea $3.5
Honey Lemon $4.5
Hershey's Hot Chocolate $5.5
Cold
Iced Chinese Tea$1.5
Iced Long Black $5
Iced Latte $4.5
Iced Lemon Tea $3.5
Iced Chocolate$5.5
Iced Mocha $5.5
Iced Honey Lemon $4.5
Root Beer/ Coke Float$6
Juices
Orange / Cloudy Apple / Lime $4
Soft Drinks
Carrot Fruit Juice / Coke / Coke Light / Coke Zero / Chrysanthmum Tea / Grape Soda / Iced Green Tea / Iced Lemon Tea / Iced Peach Tea / Sprite / Mineral Water $2.5
Drafts
1 pint $14 • half pint $8
HOBGOBLIN
Hobgoblin is strong in roasted malt with a moderate hoppy bitterness and slight fruity character that lasts through to the end, with a delicious chocolate toffee malt toffee flavour. Perfect complement to Char's Signature Char Siew.
sWeet Water iPa
Dry Hopped with a fat stash of Cascade hops. A tasty West Coast style Extra Pale Ale accentuated with a stimulating hop character.
gUeST drAfT
Please check with server on the draft of the month.
Ales • $15
London Pride (500mL)
Fuller's London Pride is an award-winning classic. A rich, smooth and wonderfully balanced beer, its distinctive malty base is complemented by well developed hop character.
dr THirSTy (500mL)
An unpastuerised shimmering Blonde concoction of fruits. An instantly refreshment with an insanely fragrant aroma. No.4 is the first of many to emerge from the good Dr's aphothecary.
bLACK WyCH (500mL)
This new addition to the Wychwood gang is one of the most complete porters around. It is dark, well balanced with smokiness, rich chocolate malts and has a smooth finish.
WyCHWood ginger beArd (500mL)
This ginger'd beer is infused with fiery root ginger to deliver a spicy finish with a bit of a bite. Ginger Beard is a seasonally brewed amber beer that is refreshingly clean and is perfect to be served with ice in the summer time. Try it if you dare!
Ciders • $14
Thatcher's Cloudy Haze (500mL)
Refreshingly light, smooth and fruity. Perfect for times when you fancy something a little different
Green Goblin (500ml) (500mL)
Oakk-aged Green Goblin is a cider with attitude, fruity and highly drinkable, but with real depth. A classic full-bodied floral golden cider, rich fruit finely balanced with complex tannins. Ideal with Char's Roast Pork Belly
Housepours
RED
(australia, NSw) Buronga hill Cabernet Sauvignon
11/48
Red berries integrate with savoury and red pepper notes with a gentle touch of oak. Goes perfectly with our Signature Char Siew.
WHITE
(australia, Se) heritage Pinot Grigio
11/48
Pinot Grigio is the perfect accompaniment to Char's crispy Roast Pork. Light Gold in colour. Distinct varietal aromas of pear and passion fruit.
premium red wines
(australia, Langhorne Creek) 9 Mile road Shiraz
62
A well-rounded smoky wine with a savory, deep berry/olive taste, with violets and white pepper.
(italy) Valiano Chianti Classico riserva DOCG
72
Sweet spices, black plums and a touch of rose petal. Silky tannins yet firm with balanced acidity and an excellent length. This wine is perfect with our Jasmine Roast Duck.
(australia) Barossa Valley estate GSM
78
A fresh burst of blackcurrant, scented black plum with subtle mint and rich dark chocolate notes.
premium white wines
(New Zealand) Gladstone 12000 Miles Sauvignon Blanc
62
A very pretty wine with lifted aromas of nettles passionfruit, tropical fruit and citrus flower notes.
(italy) La Valentina Spelt
72
Gold Colour with aromas of ripe, fresh apricots, peaches, sage and tarragon, the flavour is rich with notes of white fruit and pear with hints of citrus fruit, it is lightlyspicy, fulled bodied and has a long after taste.
prosecco
itaLy
Bellusi Prosecco
50
Attractive acacia and linden flowers that follow through with tangerine sherbet and green apple notes.